Germany Public Holidays 2023 –In this concise yet informative resource, we delve into the exciting world of German public holidays, providing you with essential details and insights about the country's diverse cultural celebrations. From the well-known national holidays to regional observances, we'll explore the significance and traditions behind each holiday, allowing you to immerse yourself in the vibrant tapestry of German culture throughout the year.
Germany Public Holidays 2023
Germany, a country rich in history and culture, celebrates a variety of public holidays throughout the year. In 2023, these holidays offer both locals and tourists numerous opportunities to immerse themselves in the nation's traditions and festivities. One of the most significant public holidays in Germany is New Year's Day, celebrated on January 1st. It marks the beginning of the new year with lively street parties, fireworks, and family gatherings. On this day, Germans also participate in a custom called "Silvester," where they welcome the new year with friends and family, often involving champagne and firecrackers.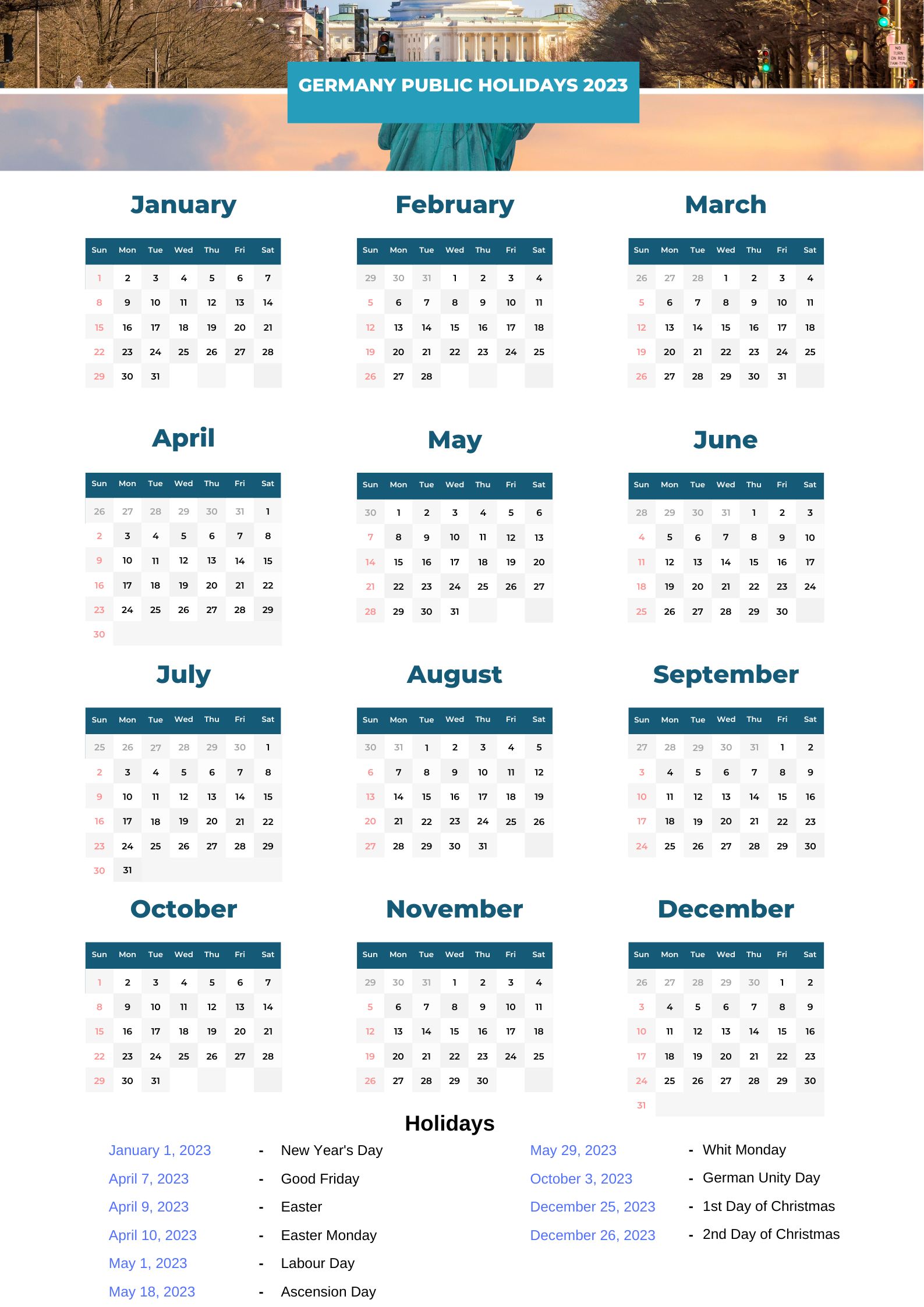 Another prominent holiday in Germany is Labour Day, observed on May 1st. This day is dedicated to celebrating the achievements of workers and their contributions to society. People often take part in demonstrations and parades, voicing their concerns about workers' rights and social issues. Labour Day is also an occasion for cultural events and outdoor activities, with many communities organizing fairs and festivals.
During the summer, Germans commemorate Ascension Day, also known as Father's Day, 40 days after Easter. While it holds religious significance for Christians, it has evolved into a day for family outings and outdoor adventures. It is common to see groups of men walking or cycling together, pulling wagons filled with food and drinks, and enjoying the sunny weather. Families also celebrate this day with picnics and barbecues in parks or other scenic locations. Check out other Public Holidays:- Indonesia Public Holidays, Victoria Public Holidays.
Germany Public Holiday Calendar 2023
In 2023, Germany's public holiday calendar promises a mix of religious, cultural, and historical celebrations, providing ample opportunities for residents to take a break from their daily routines and engage in festivities. The year begins with New Year's Day on January 1st, offering a nationwide holiday to reflect on the past year and welcome the new one with joy and hope. This is followed by Epiphany on January 6th, a religious holiday celebrated in some regions, particularly in the southern parts of Germany.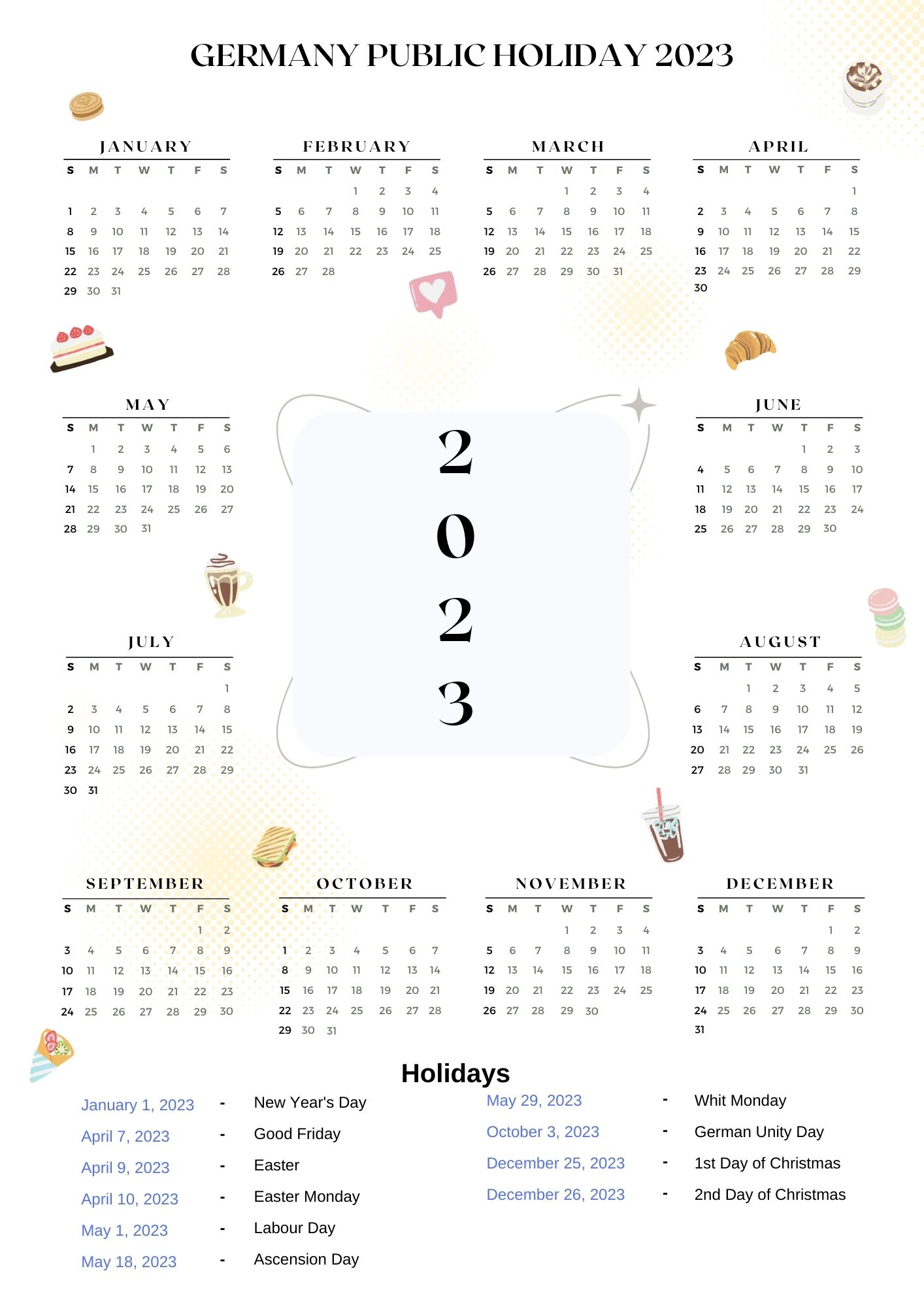 As spring arrives, Good Friday marks a solemn occasion for Christians, observed on April 7th in 2023. It is a day of fasting and remembrance of the crucifixion of Jesus Christ. Easter Monday, on April 10th, is a public holiday as well, known for family gatherings and egg-related festivities. Following Easter, Labour Day on May 1st provides an opportunity for workers to advocate for their rights and participate in demonstrations or simply enjoy a well-deserved day off.
In Germany, several holidays are celebrated regionally. Corpus Christi, taking place on June 15th in 2023, is one such occasion. It is a Catholic holiday celebrated in various parts of the country, where processions, church services, and vibrant street decorations can be seen. Additionally, Assumption Day on August 15th is a public holiday in some states, honoring the ascent of the Virgin Mary.
German Unity Day, celebrated on October 3rd, is a significant national holiday that marks the reunification of East and West Germany in 1990. It is a time of reflection and celebration of the nation's history and achievements in overcoming divisions and becoming a unified country.
Public Holidays in Germany 2023
Germany's public holidays in 2023 offer a blend of traditional, religious, and historic celebrations, reflecting the country's diverse cultural heritage. The year kicks off with New Year's Day, a nationwide holiday celebrated with enthusiasm and fireworks. It is a time for Germans to bid farewell to the old year and welcome the new one with renewed hopes and resolutions.
As the spring season approaches, Germans observe Good Friday on April 7th. A solemn occasion commemorating the crucifixion of Jesus Christ. This day marked with church services and quiet contemplation. Following Good Friday, Easter Monday, on April 10th, provides a festive and relaxing atmosphere as families come together for meals and various Easter-related activities.
Ascension Day, celebrated 40 days after Easter, falls on May 25th in 2023. Known as Father's Day in Germany, this holiday is a time for men to enjoy outdoor excursions. With friends and family, often involving hikes, biking trips, or picnics. It is a day of camaraderie and relaxation, cherished by both young and old.
Germany's national holiday, German Unity Day, observed on October 3rd, commemorating the reunification of East and West Germany in 1990. This significant historical event celebrated with various events, concerts, and festivities that promote national pride and unity.
As the year draws to a close, Germans eagerly anticipate the Christmas season. Christmas Day, celebrated on December 25th, is a time for religious observance and family gatherings. The festive atmosphere enhanced by Christmas markets, where locals and tourists can indulge in seasonal treats and shop for unique gifts. The celebrations continue on December 26th with the second Christmas holiday, allowing for extended quality time with loved ones.