Indonesia Public Holidays 2023–Indonesia has several public holidays throughout the year. These holidays are recognized by the government and are typically celebrated by the population.
Indonesia Public Holidays 2023
Indonesia, a diverse and culturally rich country, celebrates a wide array of public holidays throughout the year. These Indonesia Public Holidays 2023 reflect the nation's history, traditions, and religious beliefs. In 2023, Indonesians can look forward to several public holidays that hold significance for both the government and its citizens.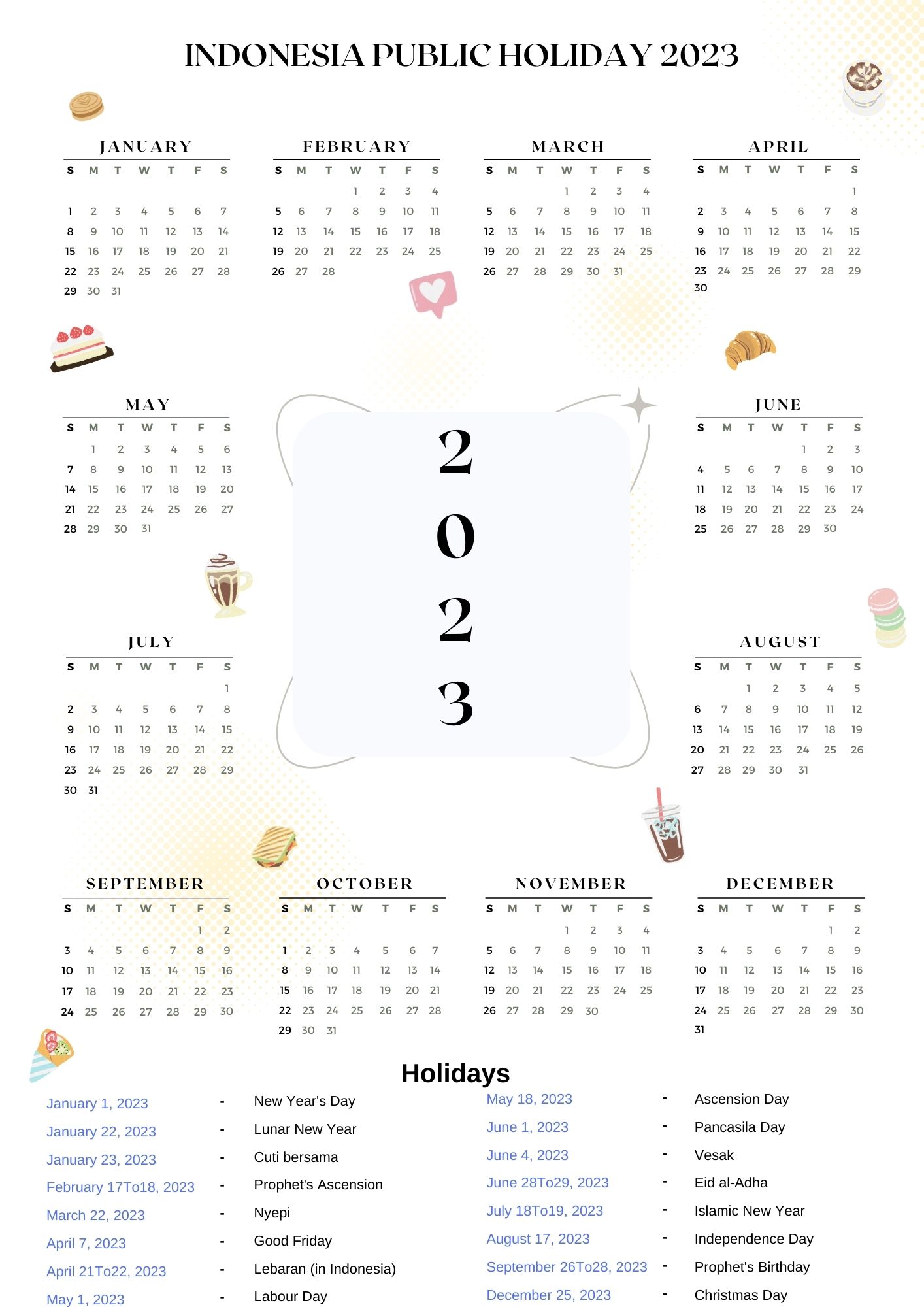 The year starts with New Year's Day on January 1st, a universal celebration marked by fireworks, parties, and family gatherings. Then, on February 5th, the nation commemorates the Chinese New Year, which is celebrated predominantly in areas with a significant Chinese population, such as Jakarta and Surabaya. The streets come alive with vibrant parades, dragon dances, and elaborate decorations.
In March, Indonesia celebrates Nyepi, the Balinese New Year. This unique holiday is characterized by a day of silence, fasting, and self-reflection. Balinese Hindus across the island observe Nyepi by staying indoors, refraining from using electricity, and maintaining complete silence for 24 hours. It's a moment of introspection and spiritual cleansing.
On August 17th, the country celebrates its Independence Day. This national holiday marks Indonesia's proclamation of independence from Dutch colonial rule in 1945. The day is marked by flag-raising ceremonies, cultural performances, and various activities that highlight the nation's unity and pride.
Another significant holiday in Indonesia Idul Fitri, also known as Eid al-Fitr, which marks the end of Ramadan, the Islamic holy month of fasting. The exact date of this holiday depends on the lunar calendar and celebrated with prayers, feasts, and the giving of gifts and donations to the less fortunate. Check out other Public Holidays:- Victoria Public Holidays, California Public Holidays, South Africa Public Holidays.
Indonesia Public Holiday Calendar 2023
Indonesia's public holiday calendar for 2023 brimming with various festivities that reflect the country's multicultural heritage. Throughout the year, Indonesians and tourists alike can participate in a diverse range of celebrations and ceremonies that showcase the nation's vibrant traditions and customs.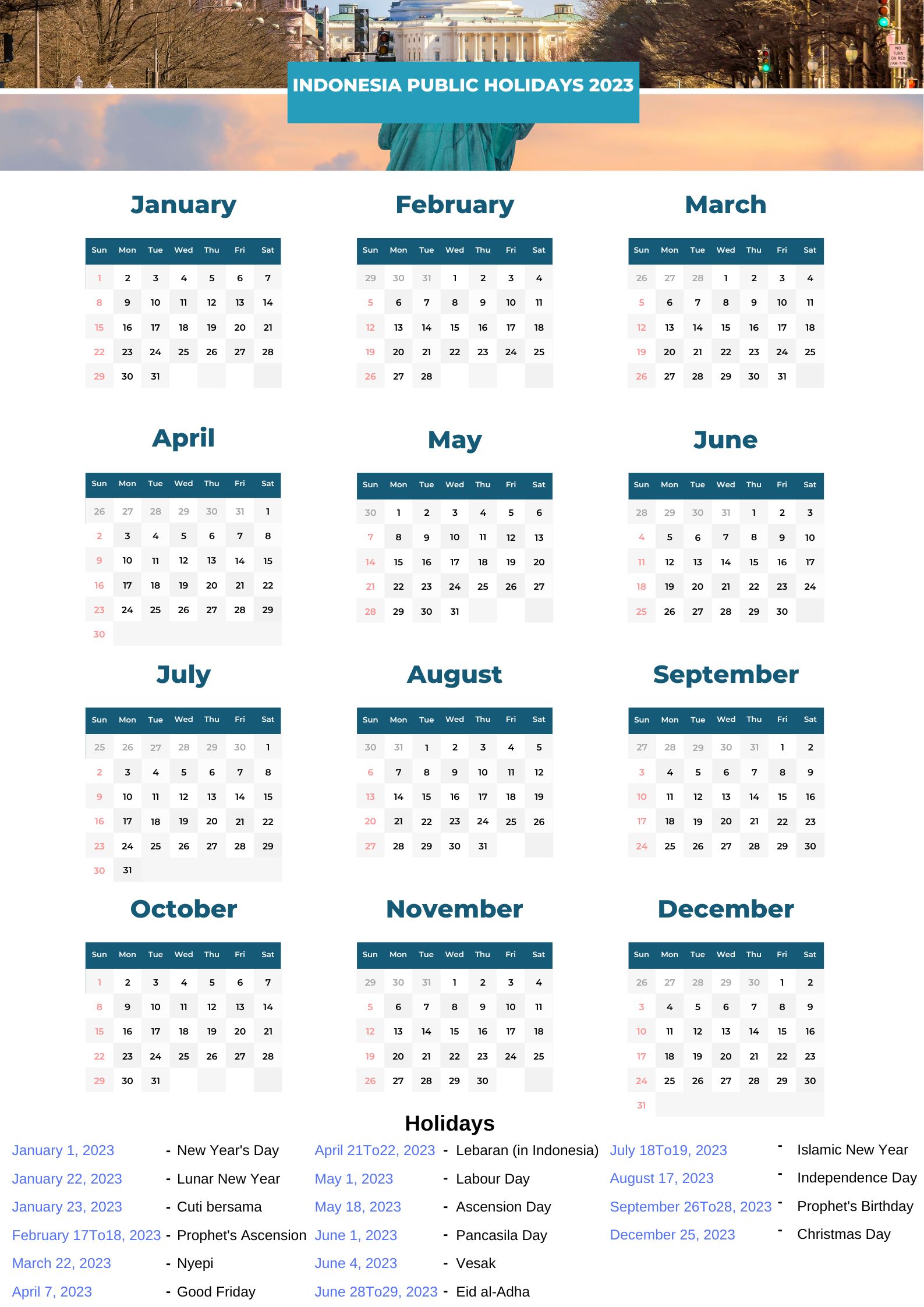 In January, Indonesians kick off the year with New Year's Day, a globally recognized holiday celebrated with enthusiasm across the archipelago. This followed by the Chinese New Year in February, ushering in the Year of the Rabbit. The streets adorned with red lanterns, and the air filled with the scent of traditional delicacies.
In March, the Hindu community celebrates Nyepi, a unique day of silence in Bali. It a time for introspection, meditation, and fasting, as the entire island shuts down to observe this sacred occasion. Hindus participate in colorful processions and engage in cleansing rituals in preparation for the new year.
On April 14th, Indonesians commemorate the Isra Mi'raj, an important Islamic holiday that marks Prophet Muhammad's night journey from Mecca to Jerusalem and his ascension to heaven. The occasion is observed with prayers and religious gatherings at mosques across the country.
In June, the Christian community celebrates Ascension Day, which commemorates Jesus Christ's ascension into heaven. This religious observance an essential part of Indonesia's public holiday calendar and marked by church services and processions.
In August, Indonesia unites to celebrate its Independence Day on the 17th. This national holiday a time for patriotic fervor and marked by flag-raising ceremonies, parades, and various cultural events. Indonesians proudly display their national symbols and engage in activities that emphasize the country's unity and history.
Indonesia Holidays and Celebrations 2023
Indonesia, a country with over 17,000 islands and diverse ethnicities, known for its vibrant array of holidays and celebrations. In 2023, locals and tourists can immerse themselves in the colorful tapestry of Indonesian culture by participating in various festivals and commemorations held across the nation.
In January, the Sundanese community in West Java celebrates the traditional New Year known as "Saka." During this festival, locals engage in traditional music and dance performances, while vibrant parades and cultural exhibitions showcase the Sundanese heritage.
February brings the enchanting Yogyakarta Art Festival, where artists and performers from all over Indonesia gather to exhibit their crafts and talents. The event features traditional dance, music, theater performances, and contemporary art installations that capture the essence of Indonesia's artistic expressions.
In June, the people of Bali celebrate the Galungan festival, one of the island's most important religious occasions. This ten-day celebration honors the victory of Dharma over Adharma (good over evil) and includes elaborate temple ceremonies, traditional processions, and ornate decorations.
August marked by the Toraja Funeral Ceremony in South Sulawesi, a grand ritual that honors the deceased and their journey to the afterlife. The event involves a series of elaborate ceremonies, animal sacrifices, and traditional dances, reflecting the Toraja people's unique funeral customs.
During September, Jakarta hosts the Jakarta Fashion Week, where Indonesia's burgeoning fashion industry takes center stage. The event features fashion shows, design exhibitions, and seminars, attracting designers, models, and fashion enthusiasts from all over the world.
Throughout December, Indonesia comes alive with festivities to celebrate Christmas and the year-end holiday season. Major cities like Jakarta, Surabaya, and Medan beautifully decorated with lights and ornaments, and churches hold midnight masses and musical performances to mark the birth of Jesus Christ.