Spain Public Holidays 2023: Discover the vibrant and diverse public holidays of Spain in 2023 with the Spain Printable Calendar. From traditional religious celebrations to national observances, Spain offers a rich tapestry of cultural events that reflect its history, customs, and regional diversity. This comprehensive calendar provides a convenient overview of the public holidays throughout the year, allowing locals and tourists alike to plan their travels and immerse themselves in the vibrant festivities that define Spain.
Spain Public Holidays 2023
Spain celebrates a variety of public holidays throughout the year, offering both locals and tourists the opportunity to experience the country's rich cultural heritage. In 2023, there several public holidays that hold significance for the Spanish people.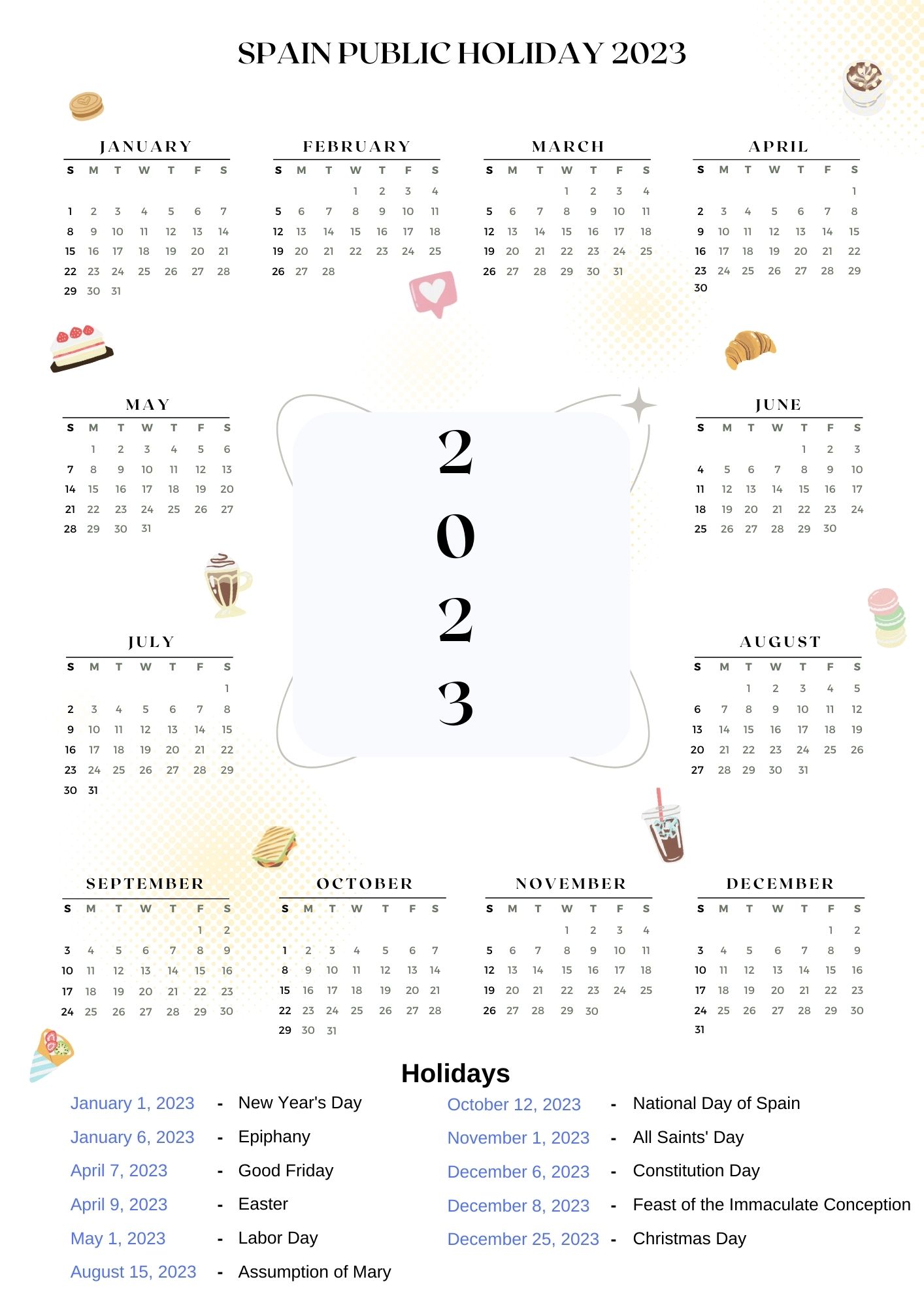 The following some of the most important public holidays in Spain for the year:
New Year's Day (January 1st): Spain welcomes the new year with celebrations and gatherings across the country. It is a day for reflection, setting goals, and spending time with loved ones.
Epiphany (January 6th): Known as "Día de Reyes" (Three Kings' Day), this holiday marks the arrival of the three wise men who brought gifts to baby Jesus. It celebrated with colorful parades and children receiving presents.
Good Friday (April 7th): As a predominantly Catholic country, Spain observes Good Friday as a day of religious significance. Many cities and towns hold processions and religious ceremonies to commemorate the crucifixion of Jesus Christ.
Labor Day (May 1st): This international holiday celebrates the achievements of workers around the world. In Spain, it is a day for demonstrations, rallies, and gatherings organized by trade unions and worker associations.
These just a few examples of the public holidays celebrated in Spain during 2023. It is worth noting that each region may have additional local holidays or festivities, showcasing the country's diverse cultural traditions and customs. Check out other Public Holidays:- Japan Public Holidays, China Public Holidays.
Spain Public Holiday Calendar 2023
The public holiday calendar for Spain in 2023 offers numerous opportunities for both Spaniards and visitors to enjoy time off and participate in cultural events.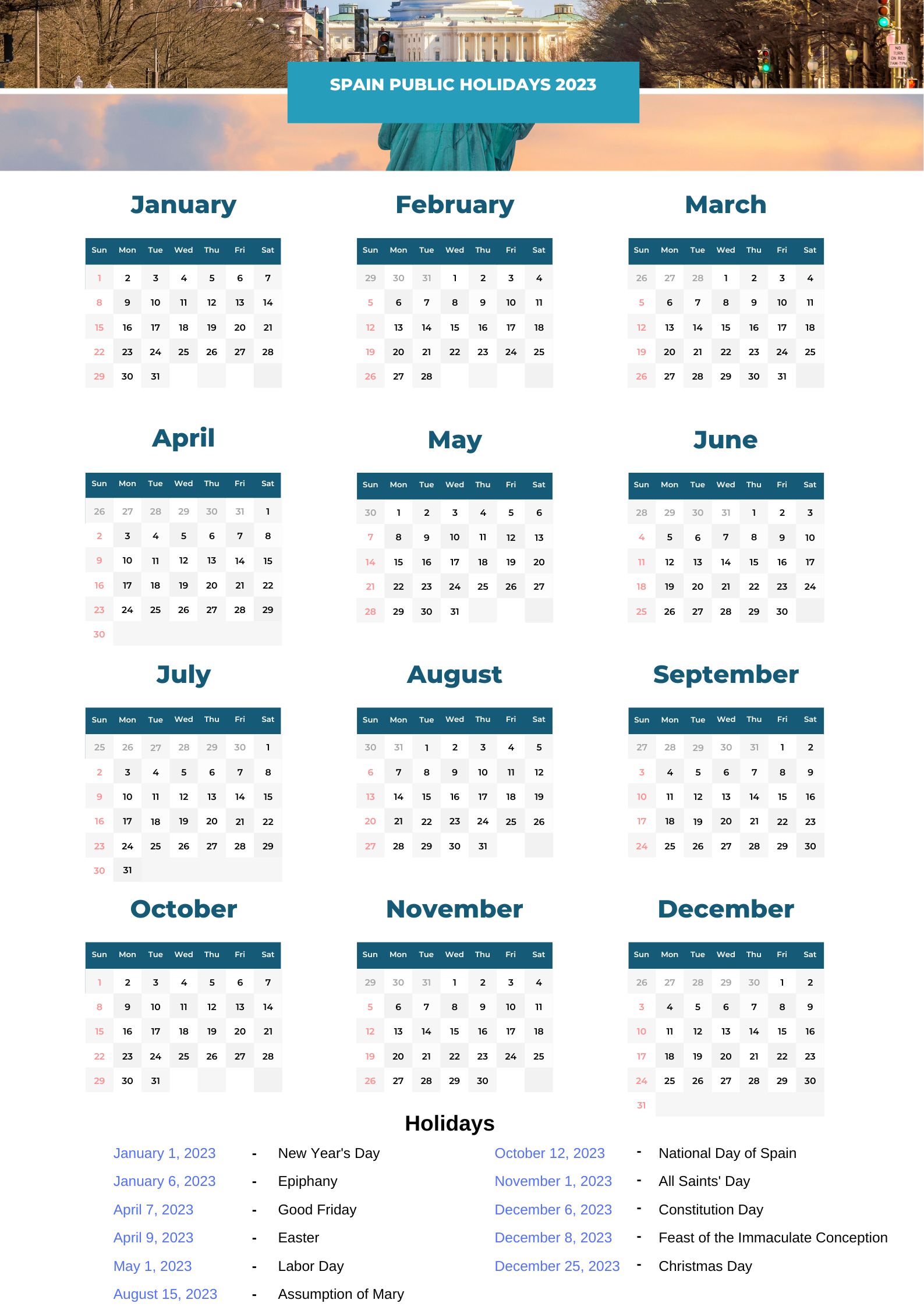 Here is a comprehensive overview of the public holiday calendar for Spain in 2023:
January 1st: New Year's Day
January 6th: Epiphany
April 7th: Good Friday
May 1st: Labor Day
August 15th: Assumption of Mary
October 12th: National Day of Spain
November 1st: All Saints' Day
December 6th: Constitution Day
December 8th: Immaculate Conception
December 25th: Christmas Day
It's important to note that some holidays may vary in terms of regional celebrations and traditions. Additionally, each region may have its own specific holidays and festivities, such as local patron saint celebrations, which add further diversity to the holiday calendar.
Holidays in Spain Calendar 2023
Spain is renowned for its vibrant culture, delicious cuisine, and picturesque landscapes, making it a popular destination for tourists from around the world. If you're planning to visit Spain in 2023, it's helpful to know the country's holiday calendar to ensure you make the most of your trip. Here some notable holidays in Spain during 2023:
New Year's Day (January 1st): Celebrated with enthusiasm, the arrival of the new year in Spain is marked by fireworks, parties, and gatherings in major cities such as Madrid, Barcelona, and Valencia.
Carnival (February 22nd – 28th): Carnival is celebrated in various regions of Spain, with colorful parades, costumes, music, and dancing. The most famous Carnival celebrations can found in the Canary Islands, Cadiz, and Sitges.
La Tomatina (August 30th): This unique festival takes place in Buñol, near Valencia, where participants engage in a massive tomato fight. It attracts thousands of people from all over the world, creating a lively and messy spectacle.
Christmas (December 25th): The Christmas season in Spain is a magical time filled with festive decorations, traditional markets, and delicious food. The streets come alive with lights, and families gather to enjoy special meals and exchange gifts.
These just a few examples of the holidays and festivals celebrated in Spain during 2023. It's important to research specific regions and their local traditions. To fully immerse yourself in the unique culture and experiences that Spain has to offer.