US National Holidays 2023 is declared as a holiday that is observed throughout the nation. This national holiday for 2023, will be legally established by the national government of the US rather than by the municipal or state government. These holidays are recognized as national holidays when the buildings or offices of the federal government are closed.
US National Holidays 2023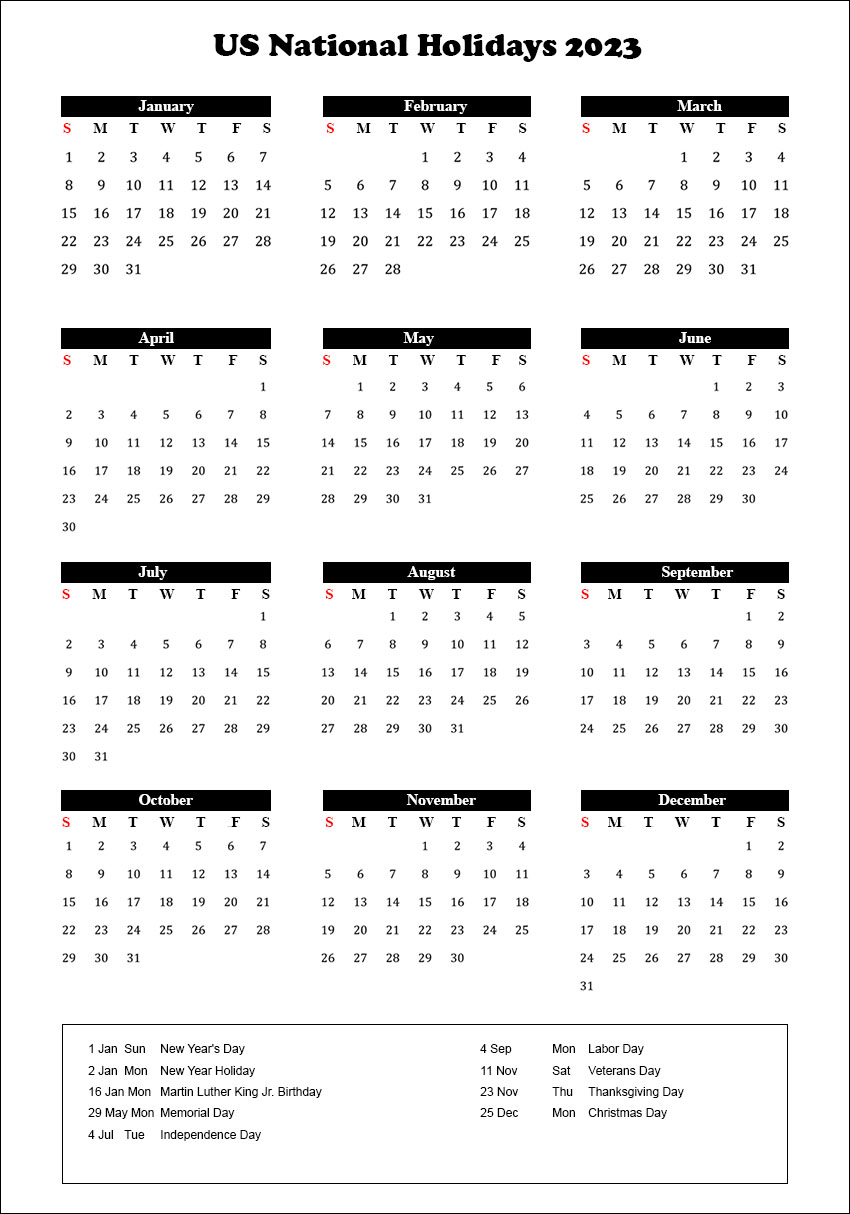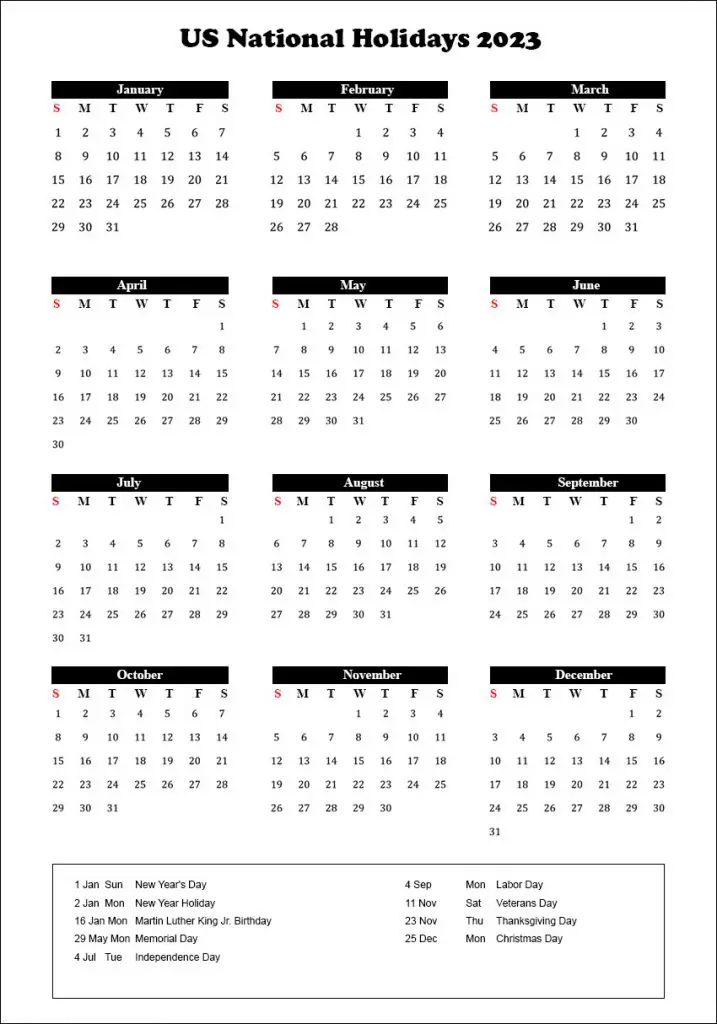 On this day, the federal government employees get a day off from work. Just because a holiday is a national holiday, it does not mean that all organizations are closed. In order to limit the scope of understanding about US national holidays 2023, it can be seen that there are about ten federally identified national holidays declared in the US.
US Calendar 2023 with National Holidays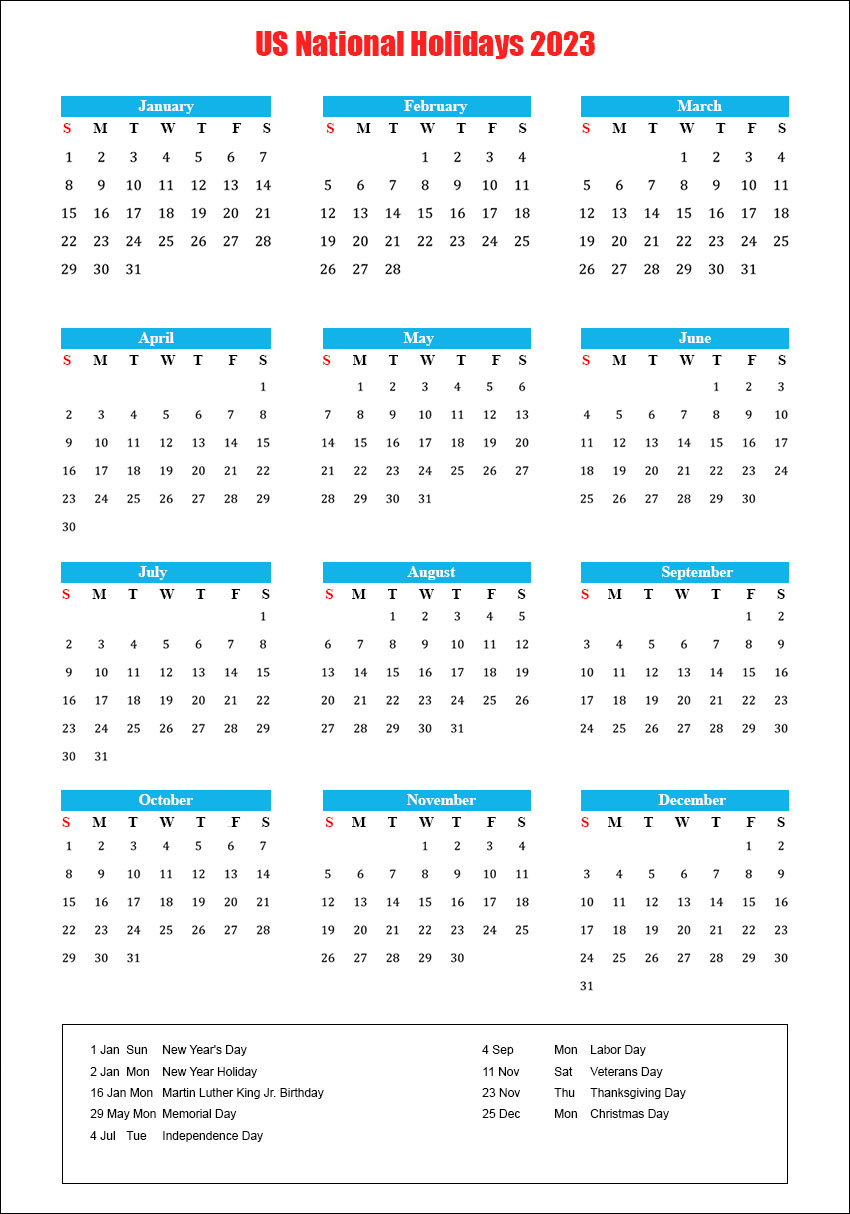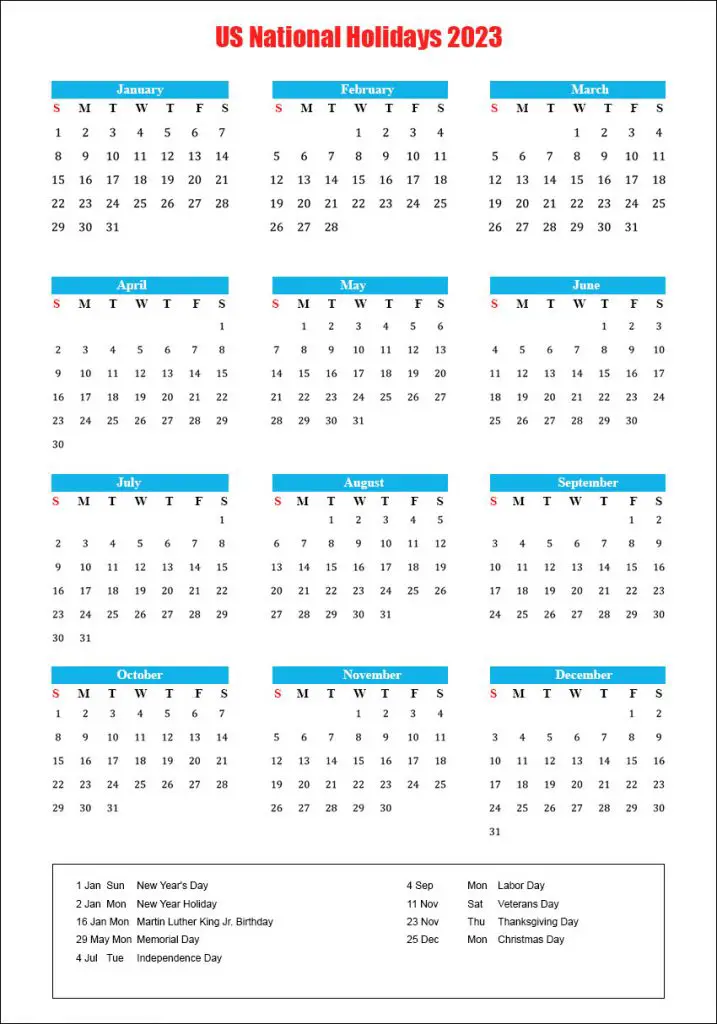 Some of these national holidays are briefly described below:
Based on the US national holidays calendar of 2023, the first national holiday will fall on Monday 2, January 2023. This national or Federal holiday falls on January 1 usually, but in 2023, January 2 will be declared as the Day Off for the New Year. Martin Luther King Jr. Day will fall on Monday, 16 Jan 2023. This is celebrated as the birthday of this most famous, active and ardent leader of the Civil Rights Movement during 1960.
National Holidays 2023 USA
Presidents' Day will be celebrated on Monday, February 20, 2023, which is a national holiday. This is celebrated in the remembrance of many past presidents, not just Washington. Memorial Day will fall on Monday, 29 May, 2023, and is celebrated as a national holiday throughout the country. The primary aim of celebrating this holiday is to remember those who lost their lives in the Civil War.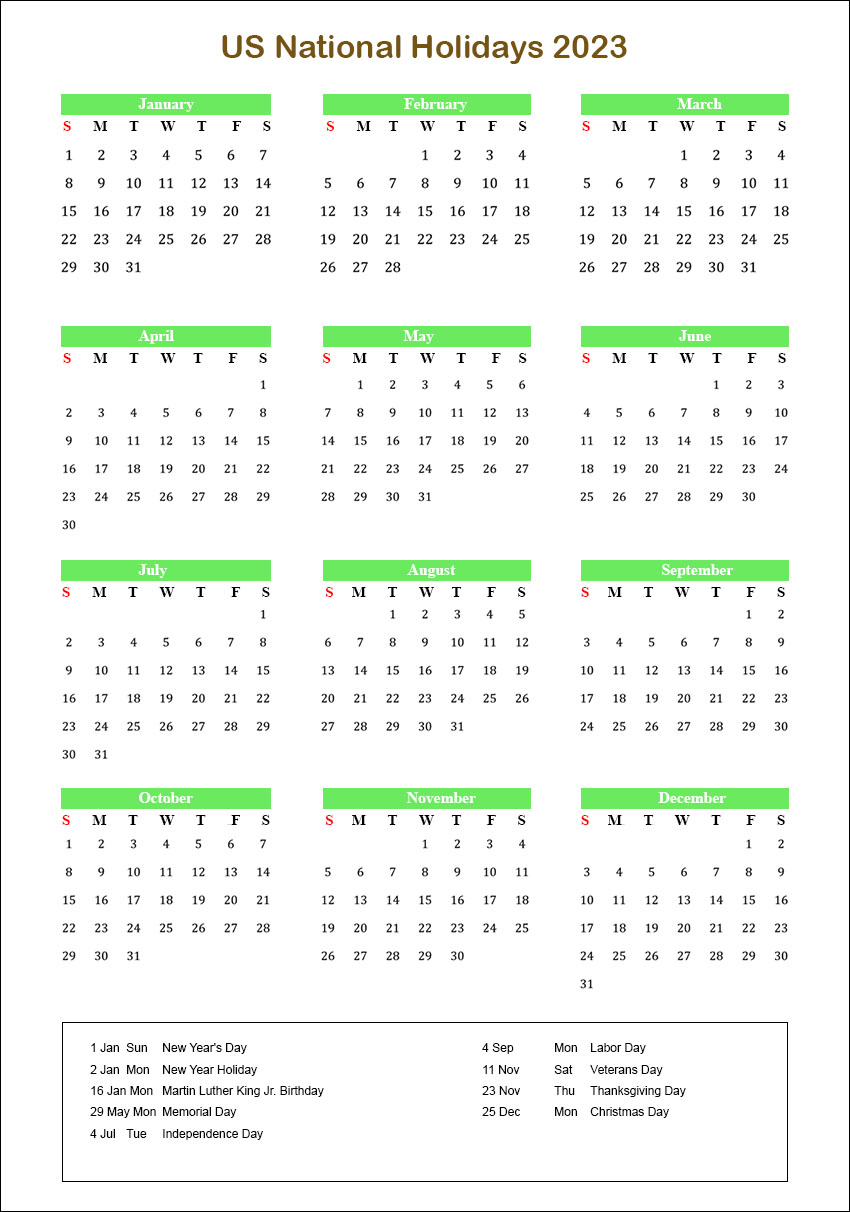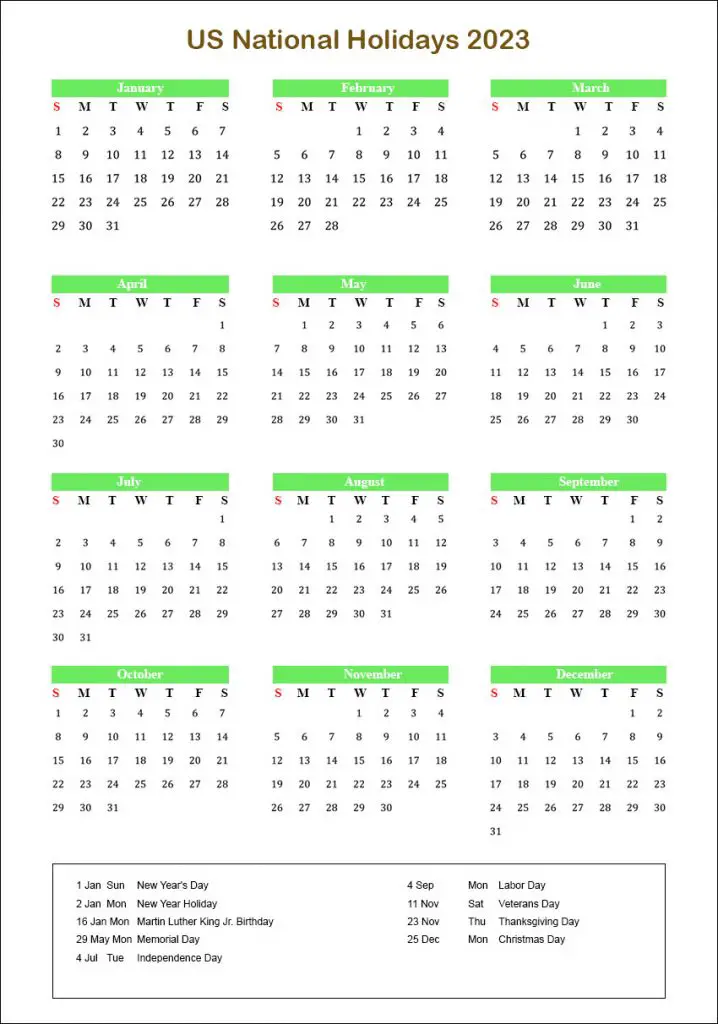 Independence Day, celebrated as a national holiday, will fall on Tuesday, the 4th of Jul, 2023. This day is often celebrated with parades, fireworks, and summer activities in the neighborhoods throughout the US. Labor Day for the year 2023 will be celebrated on Monday, September 4th; it is a federal and national holiday. This day remembers the American labor movement, the contributions, and achievements made by the American worker. In the US, this Labor Day is celebrated as a three-day weekend bringing the summer season to an end.
US National Holidays 2023 Calendar
Columbus Day that falls on October 9, 2023 will be celebrated as a national holiday in the honor of Christopher Columbus who explored the Americas in the years 1492 to 1504. Veterans Day will be a national holiday in the US that falls on 11th November, 2023. It is celebrated for honoring the people of America who have served the armed forces in the US and are known as veterans.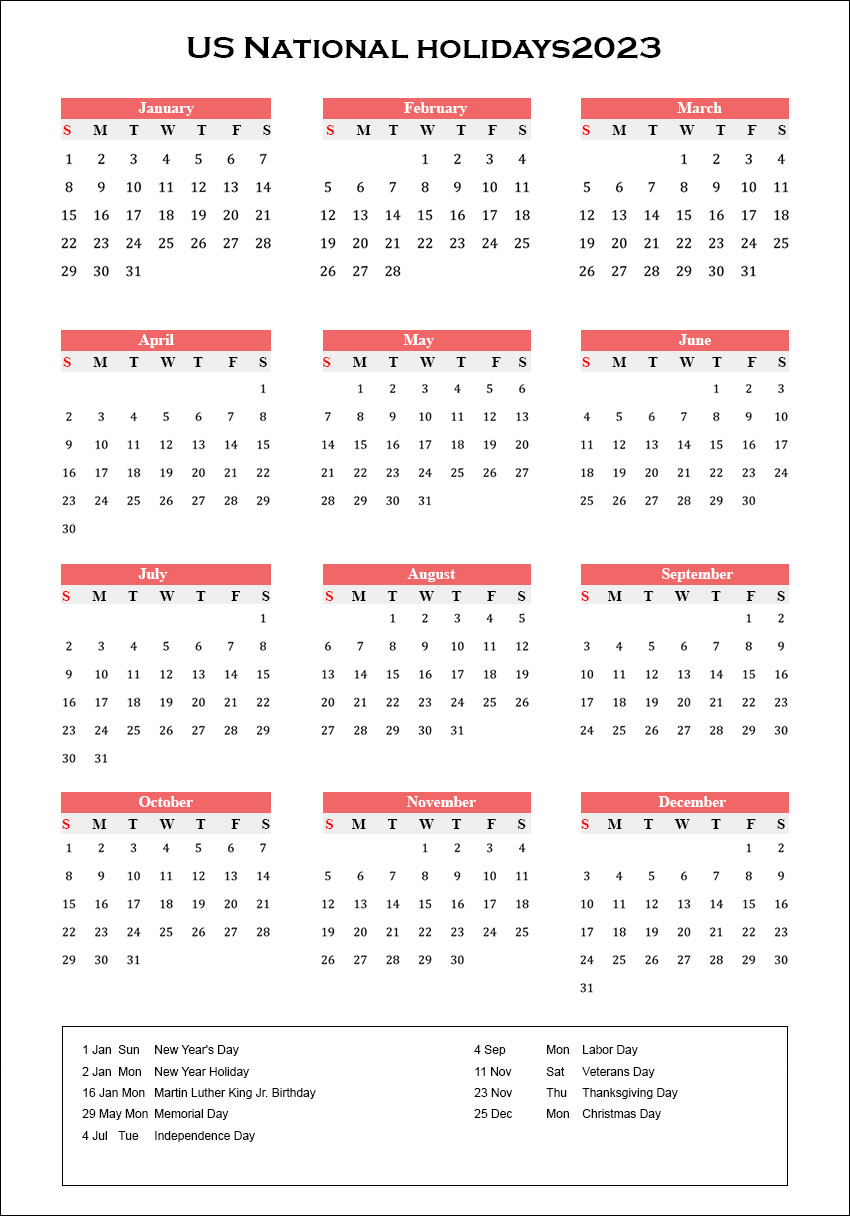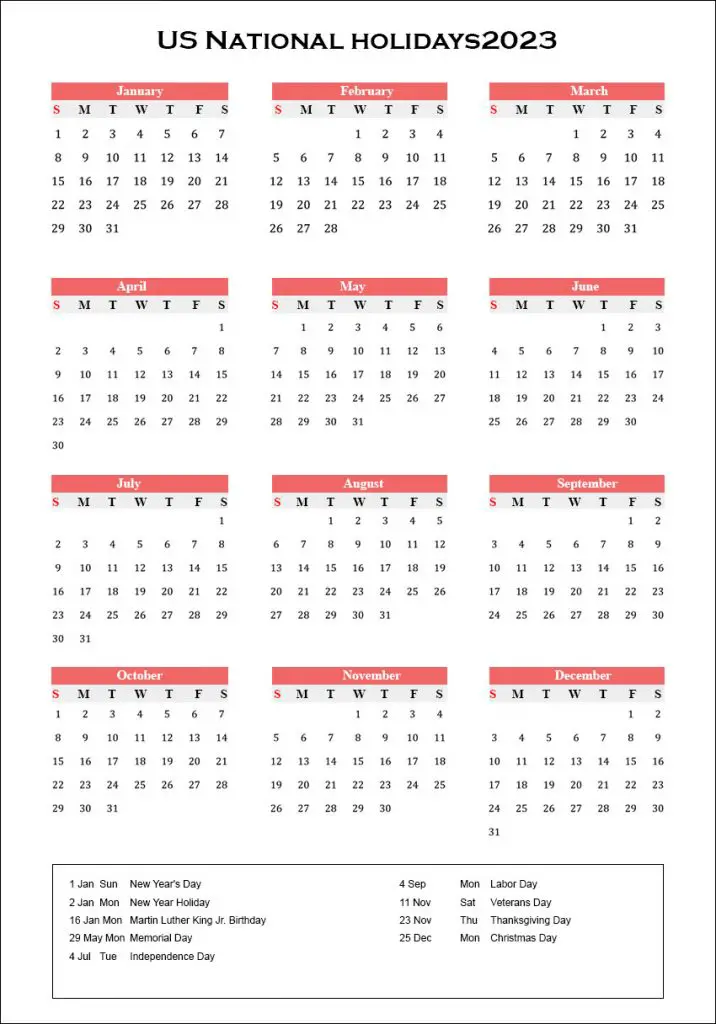 Thanksgiving Day will be a national holiday on Thursday, 23rd November 2023. On this day trading session in the stock market will end three hours early. Christmas Day will fall on Monday, 25 December 2023, and is observed as a commemoration of the birth of Jesus of Nazareth. It is a national holiday and, on this day, both Christians and non-Christians alike celebrate this day according to traditions.